Best Practice | By Curt Finch & Bruce McGraw | Read time minutes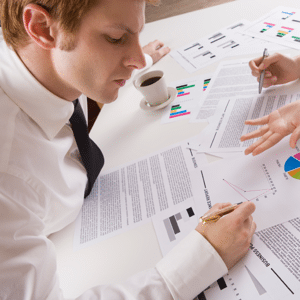 Projects are ultimately about making an organisation stronger and better, and that means it's important to make sure you're choosing the right projects, allocating the right resources, tracking progress along the way, and taking an unflinching look at actual results. Only then will you know the answer to that all-important question: Has the project delivered on its ROI promise?
Do you know what your people are working on? Do you know why your project is late? Do you know if you are getting the return on investment you need? You may not realise it, but what you don't know can hurt you and your organisation.
You might be planning projects that your resources cannot accommodate, or spending too much money through labour hours to bring in the right profit. You might be putting valuable resources on a project that is not that important to the organisation while neglecting a project that is crucial. You just don't know unless you have a bird's eye view of everything.
Where Projects Go Wrong
Resource Management
A 2008 Gartner (NYSE: IT) report found that 15 percent of all IT projects failed because of high cost variance, while 18 percent were unsuccessful because they ran late. Since these types of projects primarily involve the management of human resources, we can infer that poor resource management greatly contributes to this dismal success rate. Organisations find themselves unable to answer the following questions: "Who is working on what?" "How do I get this project back on schedule?" "How much more work will it take to finish?"
IT project teams are made up of information workers who are categorised by skill type. A project team might require business analysts, developers, team leads, project managers or architects. Finding the right person to assign to a project or task can be the most challenging problem confronting the organisation, so it comes as no surprise that most organisations struggle with this, and it has an effect on the success of their projects.
Project Tracking
Project managers are responsible for achieving the right scope, budget and schedules. Yet, how can they do so without understanding how many hours it takes to accomplish a task or how much is left?
Without the right system in place to provide this data, project managers have to constantly chase after team members for information, then relay it back to management. Not only that, but the project manager is often the last person to find out when a critical resource has been reassigned to another project. In the words of a famous song, PMs are "stitched up, out of their mind, feeling strung out, lagging behind … "
Critical Decision-Making
From a management perspective, it is impossible to make effective decisions when one does not know what people are working on or how the projects are doing. Additionally, if strategic projects do not have priority for resources, the entire organisation will suffer.
Many organisations feel that it is enough to track project progress on a percentage complete basis. Established project management methodologies, however, suggest that the only accurate measure of progress is tracking work effort (i.e., time).
How to Get Projects Back on Track
Managing Resources
In every organisation, there are people who are overbooked, and there are people who are underutilized. Without visibility into resource schedules, there is no way to avoid burning out the former and missing out on opportunities with the latter.
Project managers need real-time access to team member schedules, tasks and available time. This makes assigning people to tasks much easier. Such a system must also be Web-based, since the team is probably not all in one workspace 24 hours a day.
Tracking Actuals
Projects are executed in order to bring in a positive ROI, and this return cannot be accurately measured unless project managers and executives know what the full investment was. In today's globalised knowledge worker world, project costs are mainly derived from the cost of labour. Tracking time to projects is therefore a necessary requirement for measuring project ROI.
This information helps in more ways than one. Not only will the organisation understand real project cost, but project managers will be able to address problems early on. For example, if 20 percent of the allocated budget has been spent and only 10 percent of the project work has been completed, there is a problem. Project managers who track employee actuals will find this out early enough to actually do something about it. Those who don't will find themselves drastically over budget later on.
Data Analysis
Presenting data on project costs, status, etc., to upper management is extremely important. In fact, Edward Tufte has written a number of excellent books on the subject of how to display complex data in understandable ways.
Executives are problem solvers, so they mostly just want to know what is not working. They cannot succeed at this, however, with incomplete data.
The Future of Projects
Projects can be successfully executed only when project managers have the ability to forecast future projects and schedule resources based on their skills and current allocation, and executives have the ability to make strategic decisions based on real data.
This will put an end to project failure, as well as eliminate the waste of resources on projects that are not profitable to the organisation.
---
Curt Finch is CEO of Journyx, a provider of Web-based software located in Austin, Texas, that tracks time and project accounting solutions to guide customers to per-person, per-project profitability.
Bruce A. McGraw works for ProSphere Tek, is a certified Project Management Professional (PMP) and an active member of the Project Management Institute.