Snatching victory from the jaws of defeat
Best Practice | By Dr. Ian Clarkson | Read time minutes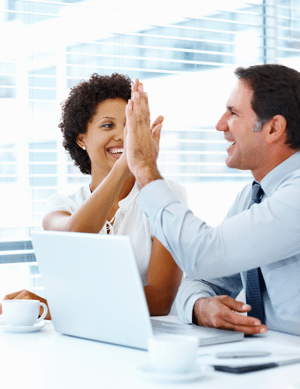 We've all been there. We've all exhaled loudly when finished - the proverbial 'monkey' is off your back! Maybe you have even given a silent 'high-five' as the project has finally gone live when it looked like you were going to miss the deadline? But have these reactions only manifest because you have managed to snatch project victory from the jaws of defeat? Would your behaviour be the same if the project was run smoothly? I doubt it.
So, how can we avoid the, some would say traditional, last minute 'all hands to the pump'? Well, here's my top tips for project management success - I have even given them a catchy-title: "Clarkson's Criteria for Cracking Change":
Adopt a project management methodology - such as PRINCE2
Remember that projects involve people
Recognise project management as a professional skill
Understand the organisational context
Understand the organisational culture
Provide support
Adopt a Methodology
Adopting a project management methodology will 'win the battle' - but consistency of use is what will 'win the war'. As I say to my delegates when delivering PRINCE2 training: How many of you adopt the project management approach of 'crossing your fingers and hoping for the best'? Also known as the 'la-la-la' method (after putting your fingers in your ears and chanting la-la-la to drown out any other sounds)! It is alarming how many people are familiar with this approach!
PRINCE2 is the industry-standard project management methodology with an accompanying certification scheme. Adopting a methodology, such as PRINCE2 for example, starts with increasing capability and therefore PRINCE2 training is the obvious answer here.
Projects Involve People
For all the process in the world, a process does not run projects - people do. Always remember that projects involve people and people are idiosyncratic (that's what I like about people). The ability to communicate, lead, motivate and above all engage with people is critical to the success of a project.
Recognise Project Management as a Profession
This is my 'soap box'! Not everyone has it in them to be a good project manager. Are the skills of a good project manager any less desirable than those of a technical expert? No! But it relies on organisations recognising that project management is a skill - and one that should be nurtured. The start of this skills 'acquisition' has to be capability - project management skills. If adopting a process, such as PRINCE2, it makes sense to undergo PRINCE2 certification.
Understand Organisational Context
Should project management be undertaken differently depending on which industry sector you operate in? The purists would say 'no' - as project management skills are generic - but the reality is that being able to operate within the organisational context is key. For example, procurement processes and quality processes differ depending on the sector. The context within which you operate is an input into the planning process.
Understand the Organisational Culture
What is the culture of project management like in your organisation? Is it seen as something to be done on top of 'your day job'? Cue my soap box again! Is your organisational culture such that project management is not viewed as a professional skill? If the organisation is not willing to embrace change and do project management differently, then the culture will suffocate success.
Provide Support
I am not talking here about administration support, but commitment from the business to do project management better. Is there a project management 'Champion' - someone who is an advocate for the discipline and will provide the support needed to make project management a profession - strictly speaking I am not back on my 'soap box', as I didn't actually get off it!
---
Dr Ian Clarkson is Head of Project and Programme Management Product Development at QA -leading providers of Prince2 Foundation and Practitioner training. His role provides business direction and ownership of QA's portfolio, programme, project and risk management curriculum. Ian is an experienced lecturer, author, speaker and consultant, having delivered programmes and projects in all industry sectors.