Best Practice | By Michael L. Young | Read time minutes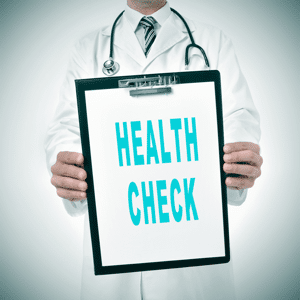 The health check is a reflective learning exercise, a snapshot of the status of a project or programme in order to identify what is going well and what areas need improvement. Project managers, sponsors and the project team are often so involved in the day-to-day activities that they can fail to recognise the true status of a project.
The checks purpose is to gain independent assessment of how well the project or programme is performing in accordance with its objectives and how well it adheres to organisational processes or standards.
Why Use Health Checks?
It is well known that in most business arenas, the cost of correcting an issue is many times the cost of preventing it. Looming problems can go undetected or be ignored because the project team has faith that if they just follow the plan the benefits will materialise. At an enterprise level, conducting checks on a sample of projects enables common issues and non-compliance to be captured and resolved in a cost-effective way and applied to future projects.
Who Should Conduct Project Health Checks?
Checks are best undertaken by independent assessors - free from internal politics - who can provide a balanced view. Recommendations of independent assessors are more likely to be accepted and acted upon. The last thing you want to do in a health check is to wander in and just start poking around in a random fashion. A good assessor will use a structure such as the PMBOK (Project Management Body of Knowledge) and will take the organisation's unique nature into account and its project management and delivery methodologies.
When Should You Do Health Checks?
There are two ways you can approach project the checks:
Perform when the project is in trouble to identify what needs to be fixed.
As part of the planned project review process to identify problems before they occur. Proactive checks ensure the project begins and runs as efficiently as possible, but a reactive check can set an over-budget or late project back on track.
Both have their place, depending on the size of the organisation and project complexity.
Project Health Checks: What Are the Warning Signs?
Following are five broad categories of warning signs that are pretty common for organisations that successfully use health checks to identify problems:
1. Project Control
This is about the expected costs to be incurred next month or next year, the project's 'burn rate'. From this you can estimate what the costs will be and make resourcing decisions to shape the future and mitigate loss or increase ROI.
2. Compliance
Compliance is about adopting a consistent approach to practicing project management across an organisation. It's about making sure organisational methodologies are adopted to embody best practice, improve effectiveness and streamline communication.
3. Validating the Business Case
Projects are done for many reasons, including increasing customer satisfaction, enhancing efficiencies or developing a new product. The check scrutinises objectives throughout the project life cycle ensuring that the project still has a focus on the big picture.
4. Risk and Issue Review
It's not uncommon for managers to perform the 'obligatory' risk management and leave the plan on the shelf until the project is complete. The check examines the risk management plan, identifies top ten risks and whether they have been appropriately addressed and if not, issues recommendations for action.
5. The "Human" Factor
Project management is a team sport. Accordingly, the project manager needs to be concerned about relationships among the various project stakeholders, which can either enhance or threaten success. Relationships need constant nurturing. Project health checks look at team functioning, sponsor commitment, client satisfaction and any other human factors that could adversely impact the project.
Using Warning Signs to Rescue a Troubled Project
Once executives and managers have identified what signs of trouble to look for, the next step is to conduct the check and to start turning the project around. The areas of concern below are grouped into logical areas of investigation and action. The health check includes assessment of:
Scope: initial definition, variation, adjustment of the plan.
Cost: tracking processes, reconciliation, projections and variations.
Time: schedule suitability, currency, reflection of scope, use of milestones, tracking, action plans.
Quality: existence of quality plan, quality review actions, testing, resourcing.
Resources: sufficiency, appropriateness, time allocation, co-operation, team management, efficiency, team morale.
Communication: existence of communications plan, stakeholder identification and engagement, issues arising, expectation management and monitoring.
Procurement: use of external resources, contract negotiation and management.
Risks: existence of risk plan, stakeholder involvement, mitigation strategy effectiveness, review process, issues log, resolution, escalation processes.
Contingency Planning: existence of contingency plan, contingency testing, robustness of contingencies.
Benefits: review of projected benefits, changes in relevance, measurement of benefits, delivery ownership.
Business Process: impact on business processes, implementation, planning and testing.
Training: existence of training plan, time to produce materials, trainer availability, staff availability, pilot and review.
Implementation: existence of implementation plans, launch support, authorisation, delivery criteria, testing.
Governance: existence of management review checkpoints, meeting standards, progress through 'gates', tools, skills and process adequacy, compliance monitoring, company methodology.
Roles and Responsibilities: definition, accuracy, team support, executive support, responsibilities not covered in definition.
Documentation: availability, organisation, easy location, version control, construction, meeting agendas and minutes, signatures, glossary, decision register.
Requirements: documentation, tracking of changes, documentation of changes and approval.
By taking the time to have the project independently 'health checked' organisations can not only avoid any potential risk, but can also confirm that their project managers are on top of all the key elements ensuring the projects' success.
---
Michael Young is an award-winning project management consultant, trainer and assessor and Managing Director of Transformed Pty Ltd. Transformed works with individuals to develop their project management skills and with organisations to enhance their program delivery and strategic implementation capabilities. Michael can be contacted at https://www.transformed.com.au