Communications Management | By Jo Ann Sweeney | Read time minutes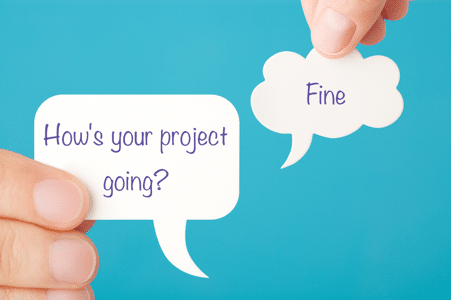 There is a right time to begin communicating, and that is at the beginning of a project. But it is not the only time.
Including communications in initial planning is ideal. Then it's integrated into the project, stakeholders' views and information needs are taken into account and regularly reviewed.
In reality, however, communications is often an afterthought until things begin to go wrong. But this is not the end of the world. You can begin communicating at any stage during a project. The secret is to start as soon as you recognise the need.
There Is Nothing Wrong With Fire-fighting
Communications are one of the most effective fire-fighting tools for projects. It doesn't have to be complex to be effective, and it can be rolled out quickly. Face-to-face is best; this means speaking with and listening to small groups of people.
Effective communications are all about putting yourself in the shoes of your audiences and speaking from their perspective, using language and imagery they can relate to and understand. When you do this, they are far more likely to pay attention to what you are saying.
Use channels that already exist in your organisation and are familiar to your audiences. You won't have to put a lot of effort into getting them up and running, and it will be quick and easy to communicate messages out via them.
They may be channels that you control, or they may be run by other parts of your company. It doesn't matter. You can still target your audiences through them though the message may go wider than the audience you are targeting.
Don't try things that require support from people in a lot of different teams, this will create delays and frustration for you unless you already have good relationships with them.
Planning Takes Time You Can't Afford
Don't spend time planning, just get in and communicate. You will find the key things you need to explain are obvious, you won't need to spend time agonising over who to communicate with and what to say. It will jump out at you.
Planning takes away time you can't afford. Even more crucially it creates a degree of structure - a rigidity - that does not help when you are trying to turn a project around. At this time, you need to be flexible. You don't know how your audiences will react to what you say or the way you communicate. You have to be able to respond and adapt as they feedback to you.
If you try to use a plan to communicate you will find it works for a little while, perhaps only a couple of weeks. Then you will need to spend time adjusting the plan, the time you should be giving to communicating. Once you have sorted out the problems, you can start planning to change perceptions in the medium and longer-term.
---
Jo Ann Sweeney is a communications consultant who helps project teams develop activities that win the support of their sponsors, senior executives and end-users. She blogs regularly at CommsAbilities and is interested in connecting with project managers on Twitter