Project Documentation | By Duncan Haughey | Read time minutes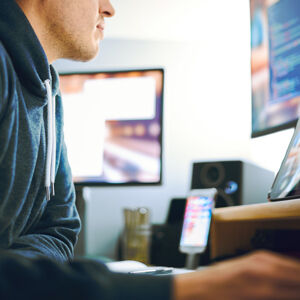 Whether you're a new project manager or a seasoned pro, having good project management tools in your armoury is essential for staying at the top of your game. While there's abundant options out there, this article looks at five simple tools that are easy to use and will provide guaranteed benefits for your projects. And even better? They're 100% free, apart from the time you need to use them. Here's the list of five tools that are covered in more detail below:
RAID log
BOSCARD
PEST analysis
SWOT analysis
RACI matrix
1. RAID Log
RAID log is simple tool that offers a great way for you to stay in control of the risks, assumptions, issues and dependencies on your projects. With a weekly review of your RAID log, you can keep your project on track while ensuring nothing impacts it from left field. Let's look at each RAID area in a little more detail.
Risks
In a RAID log, risks are the events that will harm your project if they occur in the future. Risk refers to the combined likelihood the event will occur and the impact on the project if it does happen. If the event's probability and the project's effect are high, you identify the event as a severe risk. The log includes a description of each risk, an analysis and a mitigation plan.
Assumptions
Assumptions are any factors that you assume to be in place and that will contribute to your project's successful result. The log includes details about the assumption, the reason it is assumed and the action needed to confirm whether the assumption is valid.
Issues
Issues are what is going wrong with your project – what needs managing. In the log, you'll find a description of each issue, its impact, its seriousness, and the actions needed to contain and remove it. Failure to manage issues may result in poor delivery or even an outright loss on the project.
Dependencies
A dependency is an event or work that's either dependent on your project's result or something on which your project will depend. The log captures who or what you are dependent on and what should be delivered and when. Who or what is dependent on you might also be included.
Download our RAID Log Template
2. BOSCARD
Another simple but effective tool is the BOSCARD. Thought to have been developed by consulting company Cap Gemini in the 1980s, BOSCARD stands for background, objectives, scope, constraints, assumptions, risks and deliverables. Its beauty is in its simplicity – this tool provides a clear outline for the project, covering all significant areas of importance.
The BOSCARD provides a digestible and efficient way to deliver the necessary project information to stakeholders, without overloading them with documentation. Notably, this approach lends itself to internal company projects where the constraints of formal contracts and agreements aren't needed. If you're looking to get your project up and running quickly, a BOSCARD could be the way to get started with your internal customer.
Download our BOSCARD template
3. PEST Analysis
PEST analysis offers you a straightforward strategic planning tool that evaluates the impact of the political, economic, social, and technological factors on a project. And it's essential to understand all these external factors that may potentially influence your project. In fact, assessing the external environment is good practice, particularly on large projects. Doing so can help raise awareness of any threats to the project from external actors.
Today's rapid pace of change makes it increasingly difficult to anticipate events that may affect your project. But a PEST analysis can help. It helps you predict future difficulties, minimise their effect, or identify and exploit opportunities.
Create this table to help you understand the external factors that may influence your project's success:
State Project Objective:
Political
Economic
Political stability
State of the economy
Tax law
Interest rates
Employment law
Exchange rates
Trade restrictions and tariffs
Inflation rate
Environmental regulations
Taxation
Social
Technological
Role of men and women in society
Rate of technological change
Division of wealth in society
Automation
Health and Safety
Innovation
The population growth rate
Recent technological developments
4. SWOT Analysis
Normally paired with a PEST analysis, a SWOT analysis helps you understand the internal and external factors that are favourable and unfavourable to achieving your project's objective.
With a SWOT analysis, you and your team should ask four questions:
How can we use each of our strengths?
How can we address each weakness?
How can we exploit each opportunity?
How can we guard against each threat?
Focussing on these questions enables your project team to have plans prepared in advance to provide the best chance of success.
Create this table to help you understand the favourable and unfavourable factors to your project's success:
State Project Objective:
Strengths (internal factors)
Weaknesses (internal factors)
Track record (similar successes)
Gaps in knowledge and expertise
Resource availability
Timescale and deadlines
Skill levels
Budget and funding
Processes and systems
Competing projects
Reputation
Processes and systems
Opportunities (external factors)
Threats (external factors)
Technology and infrastructure development
Political influences
Changing consumer behaviour
Environmental factors
Emerging and developing markets
Competitor activity
Innovations (R&D)
Economy
Market demand
Seasonal effects
5. RACI Matrix
The RACI matrix is an operational planning method where you assign responsibilities to people involved in a project by establishing four roles: responsible, accountable, consulted and informed.
Responsible is the person who does the work to achieve the task. As a rule, this role is filled by only one person; examples might be a consultant, architect or contractor. They have the responsibility of getting work done or decisions made.
Accountable is the person who ensures the correct and thorough completion of the task. The responsible person is accountable to the person serving in the accountable role (approves the responsible person's work). This role should be one person, often the project manager.
Consulted people provide information for the project and engage in two-way communication. This role is often several people, usually subject-matter experts.
Informed people are kept updated on progress using one-way communication. These are people affected by the outcome of the tasks, so they need to be kept up to date.
Create this matrix to help you visualise and understand the role and accountability of each person on your project. An example RACI matrix is below.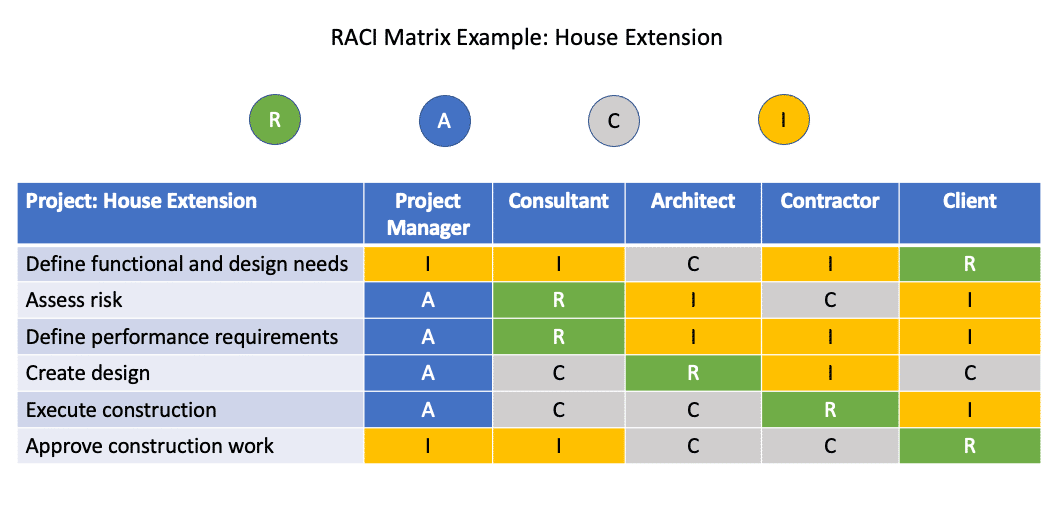 The Last Word
These 5 tools are some of the simplest and most effective ones you can put in your project manager armoury – and using them only costs time. And the beauty of these tools is their ability to drive structured thoughts and actions without expensive project management software solutions.
These tools can be downloaded for free from many project management websites or created using office software – for example, I like to summarise the information and link to each document in Evernote. If you're not already using these free tools, now is a good time to get started!
What tools do you use to manage your projects? Let's discuss in our forum.
---
Recommended read: Project Management Tools, by Duncan Haughey.