Project Management Office | By Matthew Sheaff | Read time minutes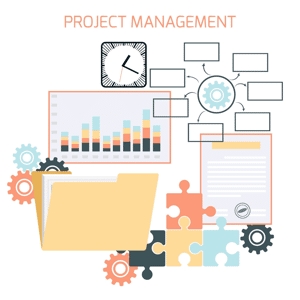 Government agencies continually strive to produce better results. With regular mandates and quarterly score keeping by the President's Management Agenda, agencies are constantly working to become more efficient and better spenders of taxpayer dollars. Distressingly, recent surveys have found that half of all projects exceed budget, are completed past scheduled deadlines and do not meet original business objectives. One solution to this problem that has been slow to gain popularity in the public sector is the implementation of a Project Management Office (PMO). By incorporating a successful PMO into the overall project management strategy, government agencies can reduce delivery costs, improve the quality of project deliverables, improve resource management and produce more effective results.
The Project Management Office is a unique and critical tool for the success of any agency. The PMO provides oversight for the overall management of projects and programmes within an organisation. Even though responsibilities and services will vary between agencies, the unification of all projects within one overall standard will help to improve efficiency, costs and execution of project deliverables. Currently, government employees are frustrated with the variance in project policies, standards and procedures that shift from project to project. Establishing a Project Management Office would curb this frustration and unite standards, procedures and policies to make them uniform, thus improving project processes.
Diagram A
| A. Reduce Risk | B. Keep Projects on Budget | C. Keep Projects on Time | D. Ensure Improved Project Quality |
| --- | --- | --- | --- |
| Centralised repository for shared risk | Coordinates overall resources | Sets overall policies and procedures | Operates and manages overall project tools |
| Centralised proactive management initiatives to combat project risk | Enterprise management of budget resources | Provides universal templates and documentation | Centralised communication management |
| | | Enterprise management of project timelines | Provides mentoring and skill development |
| | | | Repository of best practice information |
There are four common characteristics that define a Project Management Office. Diagram A highlights which benefits are directly produced from each characteristic. For example, a PMO can aid in keeping projects on budget because they coordinate the enterprise management of budget resources.
Agreeing that PMO implementation is vital to the overall future success of an agency, the next question one would ask is, "How can a Project Management Office be created within a governmental agency?"
Following the lead of the private sector, most experts agree that there is a three-step process in order to successfully implement a Project Management Office into any organisation. These three steps, which will be further analysed, are the assessing, planning and implementing.
Diagram B
| Assessing | | Planning | | Implementing |
| --- | --- | --- | --- | --- |
| Define the goals of the organisation | | Define the function of the PMO and its responsibility | | Establish corporate project management methodologies |
| Understand how the organisation view the PMO | | Define the staffing of the PMO | | Establish quality metrics and tools which will be the guidelines for PMO assessment |
| Identify what project management methodologies, procedures and systems exist or are already planned | | Create a Project implementation plan | | Define PMO internal procedures |
Diagram B illustrates the flow path of the three phases and breaks down the actions inherent to each.
The assessment phase is the shortest phase of implementing a Project Management Office; during this phase the agency confirms its goals and understands where the PMO will lay within the organisational structure. Agency leaders should affirm the logistics of the Project Management Office by asking such questions as: "Who will the PMO report to?" "What types of project management methodologies are currently being employed in the enterprise?" or "What support does the enterprise see providing the PMO in five years?" It is important to understand that establishing a Project Management Office is a project within itself.
After making a proper assessment of the PMO within the agency, officials then begin deliberation concerning the role and responsibility of the Project Management Office. Often times dictated by tight budgets and limited resources, agencies would need to illustrate the staffing needs for the PMO. From this information a "project implementation plan" will be created. This plan will serve as the key transition from phase two to phrase three. The "project implementation plan" defines the project scope using the work breakdown structure (WBS). The plan also describes the work which needs to be performed and estimates the resources will be needed to execute that work. Using these descriptions, the plan proposes a project schedule and a budget. When this is completed, the organisation can easily transfer into the last phase, implementation.
The final phase of PMO implementation strives to guarantee success of the Project Management Office by establishing long-term measures and metrics by which results will be measured. These results will guide officials to determine the future role of the PMO and whether or not to encourage its growth and facilitate organisational adaptation. The project management methodology implemented during this phase should include language and practices that illustrate the value derived from the Project Management Office and should highlight the organisation's goal of improving deliverables and minimising risk.
Project Management Offices are an untapped tool that government agencies need, to improve quality and produce better and more efficient results. Implementing PMOs can open up agencies to be beneficiaries of improved budget estimations and successful project execution. Both of which will ensure that taxpayer dollars are not being wasted.
---
Matthew Sheaff serves as the Director for Information Technology and Project Management at the Performance Institute. For comments and/or questions, he can be contacted directly at sheaff@performanceweb.org The Performance Institute, located in Arlington, VA., is a private, non-partisan think tank seeking to improve government performance through the principles of competition, accountability performance and transparency. PI serves as the nation's leading authority and repository on performance based management practices for government. The mission of the Institute is to identify, study and disseminate the leading management innovations pioneered by "best in class" organisations.