Role of the Project Manager | By Nicole Garrison | Read time minutes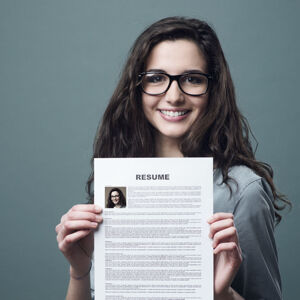 Without a well-written resume, you can't get that project manager job you want. So, you invest your time in putting that puzzle together and providing all the necessary information to hiring managers. However, while you focus on what to put on your resume, information that can harm your chances of getting the job can slip in.
Some things can be an instant turn off for hiring managers. Not to mention that in some cases, you'll need to pass through the ATS before a person lays their eyes on your resume.
So, what are the things that will make hiring managers and ATS say no to your resume?
You are about to find out. In the following lines, you'll learn about the top 5 things that don't belong in your resume as a project manager.
1. Buzzwords
While trying to make your resume impressive, you can easily take the wrong turn. That wrong turn comes in the form of buzzwords.
Candidates commonly have a misconception that buzzwords can make their resume stand out. In fact, they can only confuse the reader.
Your resume can be initially evaluated by someone who doesn't have project-manager experience. Buzzwords will only throw them off as they are vague and, ultimately, completely unnecessary.
Not to mention that buzzwords won't get you anywhere with the ATS.
Make sure that you haven't fallen into the buzzword trap and check your resume for the following words:
Paradigm shift
Synergy
Scope creep
Scalable
Agile
Mission-critical
Lean
Gap analysis
Sweep up any jargon and fluff. Replace buzzwords with specific, data-based information. For example:
Don't: "Made mission-critical changes."
Do: "Developed a database management program that helped the team meet every project deadlines."
2. Resume Statement
A resume statement or resume objective does nothing for the hiring managers. It doesn't carry any value.
Just think about it. Writing "Working as a project manager will allow me to put my skills and experience to use and help your company grow" doesn't provide any relevant information.
With the growing competition for project manager positions, hiring managers have to go through numerous resumes. Therefore, they don't want to waste their time on useless words.
There are several important reasons why a resume statement should be avoided:
It is too generic
It doesn't provide relevant information
It takes up resume space
It is outdated
Instead of a resume statement, you can opt for a career summary. For example:
"Project manager with 7 years of experience in various industries, proficient in conducting research, overseeing process improvement, and preparing project studies."
A career summary provides a sneak-peek into your overall accomplishments and abilities. That's what hiring managers want to know all about.
Unlike a resume statement, a career summary is your chance to add crucial keywords from the job description, such as your hard and soft skills.
3. False Information
As a project manager, you really need to stand out to get the job you want. With that in mind, some candidates resort to lies. These "white lies," as some consider them, can do some unrepairable damage.
Melanie Sovann, chief human resources officer at the best essay writing service in the U.S., said that false information in the resume is seen as a desperate effort to hide the lack of capability and experience for the job. Lies backfire, it's as simple as that.
Bear in mind that truth always comes to light. You might get to the interview or even get the job. But, when an employer realises that you weren't honest, you'll close those doors forever. Not to mention that you can forget about any type of recommendation.
4. Irrelevant Hobbies and Vague Personal Traits
When in need of a project manager who will be in charge of crucial projects, hiring managers don't care about hobbies or vague personal traits. How does the fact that you are a "stamp collector" or "nice" help them see you as the perfect project manager?
Hobbies can tell a lot about a person. So, you want to mention the ones that will present you in the best light.
Here are some hobbies that can work in your favor, as well as what they signal to the hiring managers:
Traveling - Proactive and isn't scared of trying new things
Volunteering - Community-oriented rather than egoistic
Writing - Creative
Reading - Inquisitive
Playing basketball, soccer, or any team sport - A team player
In terms of personal traits, opt for characteristics that present you as a capable project manager, such as:
Accountable
Team player
Ethical
Organised
Motivated
Dynamic
If you are having trouble assessing the relevancy of your traits, hire an editor to go through your resume. You can easily find cheap writing services whose expert editors will brush up your resume in no time. They can simply switch vague personal traits with impactful ones.
5. Meaningless Work Experience and Pointless Education Details
Hiring managers are interested in three things:
Relevant education that provided you with a strong foundation for this job
Relevant work experience will show that you know how to do the job
Professional qualities that can make you a suitable project manager
Everything else will be seen as filler information.
Both hiring managers and ATS are uninterested in your summer job at McDonald's or your grade point average. Mentioning a grant you won as a college student, your high-school, or meaningless job positions signal that you are just entering the job market, and you want to fill in the empty space.
Hiring managers don't want a layman to be their project manager. They want a person whose resume exudes experience and capability.
Therefore, skip any work and education-related information that isn't correlated with the project manager position. For every piece of information you want to include, ask yourself, "Does this make me a better project manager?" If the answer is no, you know what to do.
Final Thoughts
Embed these "don'ts" deep into your mind. Make sure that you avoid them religiously when writing or editing your resume. Remember that every word or sentence your write can be determining for the outcome. Therefore, put your eyes on the prize and focus on writing a relevant resume that showcases that you are the right person for the job.
---
Nicole Garrison is a content marketing strategist, writer, and editor for the best paper writing service. She is a dedicated and experienced content creator who pays particular attention to quality research. Nicole consistently attends different courses, seminars, and conferences that keep her knowledge up to date. Besides, she also writes term paper writing service reviews. In her free time, Nicole is a passionate runner and traveler.
---
Recommended read: Is Project Management a Good Career Choice? by Duncan Haughey.