Tools | By Duncan Haughey | Read time minutes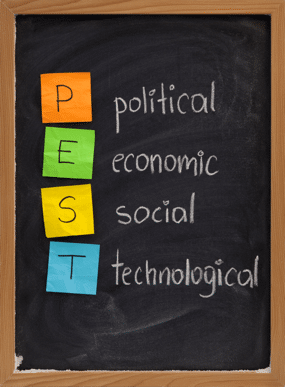 PEST Analysis was first introduced as ETPS by Harvard professor Francis J. Aguilar in the 1967 publication "Scanning the Business Environment." Aguilar presented the economic, technical, political, and social factors as significant influences on the business environment. Later, academics reordered the letters to create the acronym used today.
PEST is a strategic planning tool used to evaluate the impact of political, economic, social, and technological factors on a project. It involves an organisation considering the external environment before starting a project.
The PEST analysis is an essential part of the project planning process:
Political factors include tax policy, employment laws, environmental regulation, trade restrictions, tariffs, and political stability.
Economic factors are economic growth, interest rates, exchange rates and inflation rate.
Social factors look at the cultural aspects and include health consciousness, population growth rate, age distribution, career attitudes and emphasis on safety.
Technological factors look at elements such as R&D activity, automation, technology incentives and the rate of technological change.
Use the following grid to record each factor:
State Project Objective:
Political
Economic
Political stability
State of the economy
Tax law
Interest rates
Employment law
Exchange rates
Trade restrictions and tariffs
Inflation rate
Environmental regulations
Taxation
Social
Technological
Role of men and women in society
Rate of technological change
Division of wealth in society
Automation
Health and Safety
Innovation
The population growth rate
Recent technological developments
Advantages of PEST
A straightforward tool and only costs time to carry out.
It provides an understanding of the wider business environment.
It encourages the development of strategic thinking.
May raise awareness of threats to a project.
It can help an organisation to anticipate future difficulties and take action to avoid or minimise their effect.
It can help an organisation to identify and exploit opportunities.
Disadvantages of PEST
Usually, a simple list and not critically presented.
The rapid pace of change in society makes it increasingly difficult to anticipate developments that may affect an organisation in the future.
Collecting large amounts of information may make it difficult to see the wood for the trees and lead to paralysis by analysis.
Basing the analysis on assumptions that may prove to be unfounded.
PEST analysis covers the external environment, and the results need to consider other factors, such as the organisation itself and the industry in which it is working.
A popular variation used in the UK is PESTLE, where we add legal and environmental to PEST.
Practitioners often use PEST analysis in conjunction with SWOT analysis, which stands for strengths, weaknesses, opportunities, and threats.
---
Recommended read: SWOT Analysis by Duncan Haughey.