Training | By Duncan Haughey | Read time minutes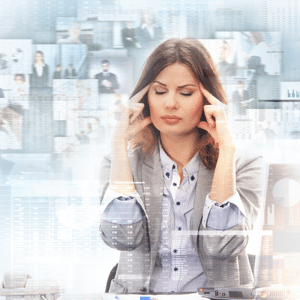 When you have great people, there's always the temptation to overload them. They become your 'go-to' people for all manner of questions and issues. The danger, though, comes when you overload them.
They're good - but like everyone else, they still only have 24 hours in a day. There comes a point for everyone when enough is enough. These people might be vital to your business, but you risk losing them if they become inundated with work.
So how can you use their expertise without overloading them?
Spread the Knowledge
Think how powerful it would be if, rather than relying on just a few key individuals, your whole team were experts in their field. Sound unrealistic? I promise it's not. Here are a few ways to develop your people.
Classroom Training
Run traditional classroom-based training sessions. You can use your in-house expertise, external trainers or a combination of both to deliver the training. Set stretching, but realistic learning goals for your people.
Then back the training up with hands-on experience to re-enforce their learning. Don't be afraid to give newly trained staff full accountability for making important decisions and delivering results. You'll likely be surprised by how well people rise to the occasion.
Brown Bag Lunch [1]
These type of sessions can be a very efficient use of time. They can also be a lot of fun, if properly run. Focus on one topic area, and ask an expert (internal or external) to talk on a subject close to the expert's heart. Brown bag lunch sessions make a great way to introduce people to new topics and help them improve their knowledge. A brown bag lunch session should be focused, open, free-flowing, fun and risk-free.
Internal Certification
Being recognised as a competent practitioner in a particular field is not only important to the individuals receiving the recognition, but also to the organisations for which they work. Good companies employ good people. People, after all, are the lifeblood of any company.
A company certification programme can help employees improve the skills and competencies essential to the organisation. For example, you could run a project management programme aimed at increasing project success. The organisation could have bronze, silver and gold standards for participants to aspire to and then grade projects accordingly, with the most important projects needing a gold standard project manager.
Peer Working
Another useful technique is to pair up your subject matter experts with junior staff members for on-the-job training. Peer working can provide a rapid pathway for their growth. As a young person entering the workplace, I found this a powerful approach. It wasn't long before I was standing in for my mentor and regarded by colleagues and customers as a subject matter expert in my own right.
Peer review helps spread knowledge and expertise while improving quality and reducing error rates. It is particularly effective for detecting errors and weaknesses in work packages. Peer review is widely used in information technology, research and academic publishing.
External Certifications
If professional credibility is important in your industry, you may want your people to obtain a professional accreditation. Go for the most highly regarded qualification in your industry.
Summary
The key takeaway here: be careful not to overload your best people - unless you want to risk losing them. Instead, use them to train other team members and spread the knowledge to create a 'dream team' of subject matter experts.
How about you, our readers? How do you spread the knowledge across your teams?
---
References
[1]A brown bag lunch is an informal meeting that takes place during lunchtime, usually in the workplace. The term 'brown bag' arose because of participants bringing their own lunches to the meetings.
---
Recommended read: 5 Ways Online Training Can Help with Talent Management, by Summer Wilde.